Indiana Railroad Detailed Photo Roster Page
---
INRD 4003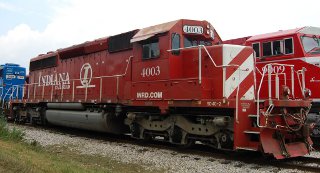 Unit Information
Ex HLCX 8175 Ex BN 8175, Built 1980 EMD LaGrange.

Pictures as 4003
Front 3/4 view

Pictures as 43
Front 3/4 view As HLCX 8175

Notes:
Leased from HLCX after BNSF lease turnback. Later purchased.
On first run for the INRD to Merom dumper, Horn knocked off into dumper due to low clearance, Replaced with
horn from INRD 600?


---
Questions? Comments? E-MAIL ME! EIRR@Railfan.net

Back